About
Us
Meet the Owner: Chris Brodhurst
Chris has worked in the auto body industry for over 31 years, at new car dealerships in Niagara before opening Platinum Auto Body in 2005.
Platinum Auto Body & Collision opened in 2005 and has grown into an 8000 square foot facility. Our staff has also grown over the years as Platinum Auto Body & Collision has become known in the community to specialize in an auto collision and car paint repairs in St Catharines. We provide the highest quality of repairs with a lifetime warranty, backed by PPG paints and 3M repair products.
Our staff has an extensive background in new vehicle repair, and we provide warranty repairs for several new car dealers.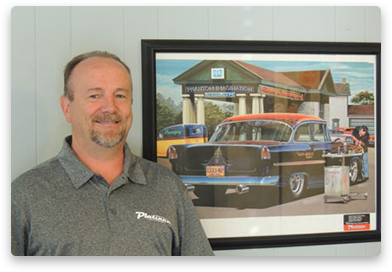 Reputation has brought us success. Whether you're a life-long customer or if you haven't yet heard about us through a friend, feel free to give us a call and we will be happy to discuss your vehicle with you.
Insist on Platinum Auto Body!















24 Hour Towing
We are your one stop shop for all collision and towing services (flat-bed towing available 24 hours with experienced, damage-free towing).
Call 905-935-9971 for all your towing needs.
Towing available throughout Niagara region, including additional trucks in the Fort Erie area.
For information on any of our services, or if your vehicle has been involved in a collision, please call Platinum Auto Body & Collision – we're always happy to help!
Stress Free Advice For All Collision / Accident Questions
Before calling your insurance company call Chris at 905-937-4334.
Watch the Video to Learn More